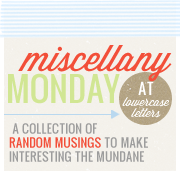 1. This time of year is tied for favorite with Spring, both season when the weather is just right. It's so refreshing to be able to open windows and doors and feel the breeze and fresh air coming through the screens.
2. I officially have two more weeks of work left. As vocal as I've been about my excitement, it will be a bittersweet day. It's a transition that we've planned since we began dreaming of a life together, one to add to our long list this year. A transition not just from work to home, but to a new phase of our lives. It's exciting, scary, overwhelming, and wonderful all at once.
3. I'm trying to put together a worship playlist to have going during labor. Any suggestions of peaceful, calming songs are welcome! Did anyone else have anything special that got them through that time that most wouldn't think about?
4. I can't help but think about all the changes coming with a new baby. I'm so excited to have Noah here to complete our little family. I can't wait to see M be a dad and for both of us to experience the overwhelming love that comes with being parents. I'm excited about finding our way of doing things and starting traditions that at special to us. Here's a little sneak peek of his room- not finished yet, but getting there!
5. Can I just say, Ikea is the bomb?! I just got their 2013 catalog and it is a good thing there's not a store close by or I'd make weekly trips. No joke.
6. See the links at the top of the page? I totally plan to work on those once work is done. I'd love to have a record of the fun recipes I've tried along with personal photos of their success once they've been mastered. I also plan to get back into jewelry making and hopefully getting back into making it a small side income. We'll see!
That's it for my random Monday. Off to check on my chicken-pot-pie and put some sweatpants on! Happy Monday!