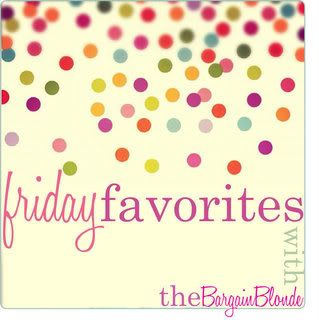 Linking up with Lindsey at
The Bargain Blonde
to do a Friday Favorite post, makeup style. I've used Bare Minerals since college, but lately I've just found that my lack of motivation to spend time putting makeup on combined with my habit of sleeping until the very last minute has left me heading to work and spending my day not feeling or looking my best. I know for sure that I look more tired, and probably scare some of my kids, when I don't take some time to freshen up. I found that the Bare Minerals makeup, as well as it covered when you took the time to apply it correctly, just wasn't practical for that on-the-go application.
I set out in search of some easier wear that would give me some color and be easy enough to do on the run. The following are my favorite new products, in order of what I put on first.
This product is great for keeping oil at bay throughout the day. A dot goes a long way to cover my tzone and around my nose.
I love this product because it has just enough color to provide cover and has SPF 15. I was leery of using a moisturizer with having somewhat oily skin, but even when I don't use the primer I found that this product doesn't add to the oiliness at all.
I really love all the colors this blush comes in. It goes on well and usually has a bit of a shimmer to it.
Creme de la Creme
Vanilla Sugar
I use the Vanilla Sugar as an overall base color and use the Creme de la Creme to accent creases, etc. My eyeshadow color is ever-changing, but I leave most of the other colors I've collected over the years in a makeup case at home.
Black or Brown




I love the pop this gives my eyes without having to go too thick or overboard on the eyeliner.


Unless I need some color, I stick with this simple, clear balm. It leaves my lips feeling SO soft and as long as my lips are moisturized, they have a great natural color anyway!




Obviously, my "beauty" routine isn't too complicated. I've been trying to put more effort into taking care of how I look and not always leaving the house feeling like I rushed out the door. Because my job is so casual, I usually don't do a whole lot. But honestly, I do feel much better, more energized, and a lot more confident when I take that extra time to devote to this routine. I don't look as tired or groggy when my face has some color and definition. I do like to use BareMinerals foundation when I can because it does provide longer-lasting, better coverage; but overall, I love this simple collection of products. Now if only I could wake up with my hair perfectly curled...