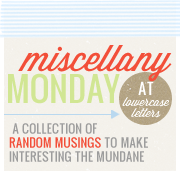 I'm home at my parent's house for the next two weeks and am LOVING being here. My sister and her husband are coming in this weekend - so we'll all be together for a week! Although I do miss my almost-husband terribly. I am so excited about our wedding!
Two.
It feels like I've got a ton of things to do this week. A bunch of appointments and trying to fit in time to hang out with family and friends. It'll be crazy- but it'll be fun!
Three.
One of my best friends, Beth, is SO pregnant. She's 36 weeks, and in my wedding. We're both thinking- "this should be interesting"! I told her to sit as much as she wants - I really just want her to be comfortable! Is it bad that I want her to have her little sweetheart before I leave so I get to see her and hold her?
Four.
I have my dress fitting tomorrow night. My mom and I are going in. I'm SO excited. It wasn't too long ago that I tried on my wedding dress and asked my mom to take a few pictures of me in it. When I saw the pictures, I cried. I had let myself gain fifteen pounds in the past couple years and felt and looked gross. After writing post after post about how I was attempting to lose weight, it finally clicked in my head when I saw those pictures. I am proud to say that in the past month and a half, I have lost over 10 pounds!

I am now so excited to have the dress on tomorrow night and hopefully have the seamstress take in a few inches!
Five.
I got M's wedding present - but I can't tell you what it is because he's sweet and reads my blog. But I'll be SURE to post pictures post-wedding! Glad to have that taken care of!
Six.
I have a droid pro and I love it! I keep adding things to my calendar like "call so-and-so!" or "do your workout- get rid of the flab!" or "don't forget to pick up such-and-such". M calls me an organization nazi. He might be right.
Seven.
As excited as I am about marrying the love of my life and best friend, I've also been struggling the past couple weeks. Not with doubts, per say, although questioning things are part of my normal brain activity- I think it's finally sinking in that I'll be a wife. It's unlikely that I'll be spending this much time at home with my parents for a long time. I tear up and get a knot in my throat every time I think about it. Changes are good. I actually thrive on change. However, it still is hard sometimes.
Last but not least, I want to tell you about my day with Goodwill. I spent the majority of the day with my grandparents. They can be so much fun to hang out with- I've missed them! I usually just end up laughing at their need to always eat at Hardee;s for lunch and order based on their coupons- and other quirky things like that. My grandma and I went to Goodwill and snagged SO many cute things! That brings me to tomorrow's post- my goal is to do a "fashion" post showing outfits using the amazing finds at Goodwill!