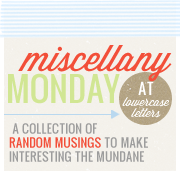 {one}
My soon-to-be-in-laws are in town visiting this week. It was their first time seeing our new house and the town we've moved to. Since they arrived, we've set up a croquet course in our back yard and have pretty much mastered the game. Well, some more than others!
There are less than three weeks before I become a married woman. The planning and moving has kept me occupied the past couple months, but I might have had a freak out moment when I woke up this past weekend and realized that I would be M's wife in three weeks. I honestly am so excited about everything- the wedding, family coming in, parties, etc! What I'm excited about most, though, is the part of the ceremony where I get to promise my love and commitment to M. The reception will be so much fun, but the ceremony, to me, will be one of the sweetest times in my life. M and I have found a certain set of vows that we really think sums up what we want to promise to each other and what we want our family and friends to know is important to us for our marriage.
It took me awhile (maybe since January when I said I was going to start losing weight....but didn't), but in the past 6 weeks I have lost a tiny bit over 10 pounds! I am really proud of myself for being so disciplined with food. I haven't been as committed to exercise as I'd like to be, but every workout has helped me work towards my goal. In the next 3 weeks, I'd like to lose about 5-7 more pounds and I truly think it is doable with some more exercise and sticking with my diet. I've been drinking TONS of water and limiting my calories to about 1,000-1,200 a day. I know that's low for most women, but it's what it takes for me to lose any kind of weight. Three more weeks to go - I can do it!
I'm going home to Virginia this weekend to stay with my parents the two weeks before the wedding. While I'll miss M SO much, I cannot wait to see them. I've missed them so much. My sister is coming to stay the entire week before my wedding and both my parents have off that entire week. Talk about some family bonding time and help for last minute wedding projects! So very excited!
The past few weeks have been such a roller coaster of emotions. There were times (and still are) that I really didn't like the person I was. I was letting my emotions turn me into someone I didn't like and I'm sure M didn't enjoy being around. One minute I would be fine, but the next I'd blow up over something that didn't matter or that I thought should be a certain way but wasn't. I'm so thankful for my mom. She never tries to tell me what I want to hear. She tells me what I NEED to hear and isn't afraid to tell me when I need to show grace to others or if I'm being a bit irrational or selfish. She encouraged me to get in the Word and really commit my day to the Lord in prayer- something that I had really neglected recently. When I started to begin my day by praying and seeking God's face above anything else that needed to be done, His Holy Spirit truly convicted me during the day of times I was being selfish or just plain mean. I also have begun to see His hand more in the smaller details of my life- the people I've met, etc. I truly desire to have a more intimate relationship with my Creator and Savior and so glad there are people He put in my life to help me when I've taken my eyes off of Him.
Ya know how last week was "before & after" week? well I just woke up one day and decided I was done. I have unpainted (but primed) chairs at my dining room table and some other stuff that needs to be done. But you know what? I'm okay with that. I'll get to them eventually! And maybe next time I won't try to cram it all into a week - talk about exhausting!
I've always loved any white pizza I've ever tried. So a few weeks ago I decided to make my own version! It is so delicious - stay tuned for the recipe!