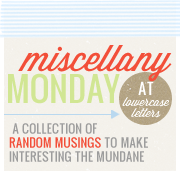 My wonderful best friend Fain got married this weekend! Congrats Mr. & Mrs. Atkins! I'm so happy for them. The wedding turned out beautifully!
The Huskers lost to Texas. M says they basically lost to themselves with 4 dropped passes in the end zone! Crazy! Hopefully they can pull it together for the Oklahoma game! (I really don't know that much about football, but I'm trying to become a better fan for M's sake :)
I got to see Kristin from Windy Poplars at the wedding this weekend! It turns out she and her husband go to church with the groom! It was only the second time we've met, but she already feels like a friend :) Guess that's what the blogging world can do for you!
When I was working full-time, I LOVED having days off and wished for them frequently. Now that I'm barely working and desperately looking for work, I realize how thankful I should be when I DO have work! I'm hoping and praying to hear back on some jobs this week!
I LOVE Parenthood on NBC. Surprisingly, I haven't missed an episode yet this season. It's such a good show! Anyone else like that show?
Last week was a crazy week! Hopefully this week I'll be able to write more faithfully!
Hope you all had a wonderful weekend and are having a great Monday!