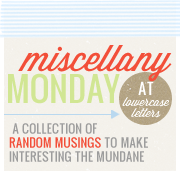 I am pooped. M and I had the most wonderful time in Charleston. It was so nice to experience such a beautiful city with my best friend (oh, he's so much more than that ;)
A little preview!
We left Charleston on Sunday morning at 5:45am because we thought it was important to attend my dad's family reunion that day....at lunchtime. We drove for about 7 hours, spent all afternoon and evening catching up with family, and drove another two and a half hours back home last night. Whew! We were exhausted! Needless to say, I've spent most of the day relaxing and unpacking.
I plan to write a whole post that talks about our trip to Charleston sometime this week! So be on the lookout for it!
I got to hold the cutest little 7 week old baby girl for probably a total of an hour or so at the family reunion. Ah.....bliss. She could have totally passed for my child, dark hair and all. I may or may not have had baby fever for awhile and M and I aren't even married yet! It doesn't help reading all these mommy blogs!
I got tagged in my first post! Mariel Sarah over at More than.... tagged me in a series of questions. This may be silly, but I feel quite honored!
I got some of the cutest fall items! I plan to blog about the package this week, too!
I'm still looking for a job. I'm only getting 10.5 hours a week...not enough to pay my rent and bills. I'm trying not to worry about it and do my part, i.e. - applying, follow up calls, etc. For all of you praying bloggers - I'd appreciate your prayers!
I don't know about where you live....but here we're LOVING this weather. Not too hot, not too cold. Perfect!
Just to recap...I've got some serious blogging to do this week!
Stay tuned for posts about:
~Our trip to Charleston (with lots of pictures!)
~My Fall Friendship Swap goodies!
~My answers to Mariel's questions!
Hope everyone's having a great Monday!