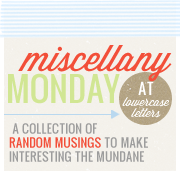 ONE.
I've been looking for a second job to make up for not enough hours with my current job. I got called Friday for an interview with Home Instead - a company that provides caregivers for individuals that would rather live at home than move to an assisted living facility or a nursing home. I also might have an opportunity to interview for a teller position at a bank. I'll keep you updated!

TWO.
Michael and I had a great time on our hike. I plan on doing a separate post with tons of pictures. It was a beautiful day and an amazing view. Look for that post tomorrow or Wednesday!

THREE.
I, along with three of my friends, am planning on taking a month-long trip to Jamaica in January to work at a deaf school in Montego Bay. The catch? The trip will cost us quite a bit as we have to actually pay the school to come stay. That's how much they're struggling financially. We just got the approval for a Benefit Concert at our church in 3 weeks! I'm so excited. It'll give people an opportunity to pray for us but also give as they feel led. We're trusting God to provide and can't wait to see how He works. More information on the trip to come!
FOUR.
I kind of failed on this diet thing over the weekend. I went to a get together with Michael and we both had pizza. Then we had a birthday party for our family friend, Rachel, as she turned 12. We gave in to pizza and cupcakes. After a couple weeks of eating well, we both agreed that we felt sick after eating all that grease and sugar. Whew! Back to the grind this week!
FIVE.
Michael and I are going to Charleston, SC for our fall break in two weeks. Any seasoned travelers have any suggestions on great places to eat, sightsee, etc?
SIX
After finding a few new blogs this week, I compared them to mine and feel like mine's too complicated and busy!! There are so many design options...geez! I think I'm just going to leave the design the way it is now for fall and winter, but come spring - expect a new design. Like I said
here
, I can't keep the same design for long. I get restless.
SEVEN.
I've been looking at engagement rings.
'nuff said.